Niki Francioli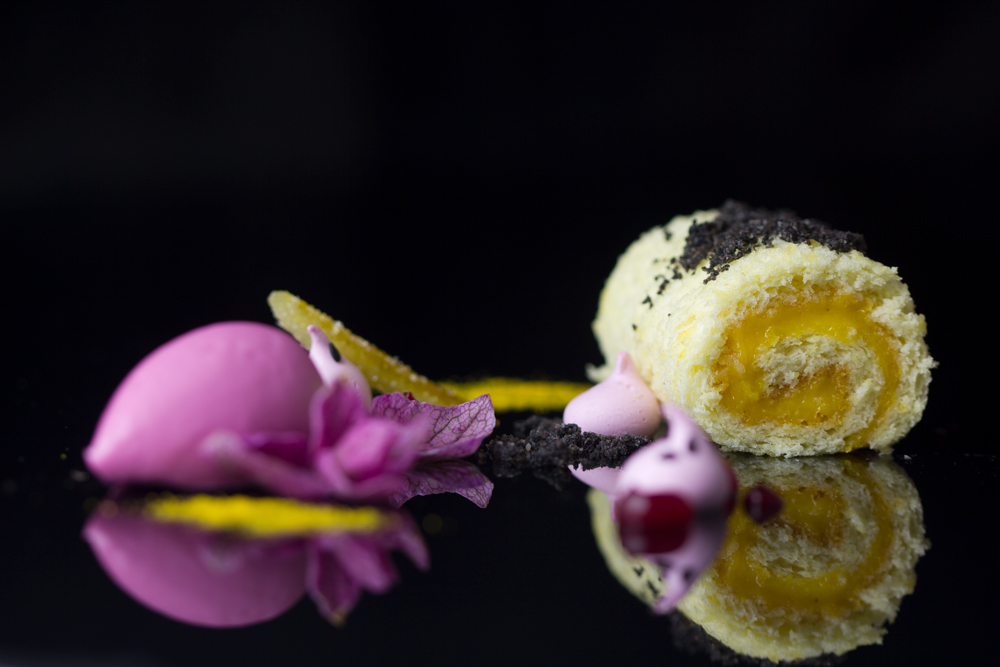 Sponge Base
INGREDIENTS
2 ⁄3 cup cake flour, sifted twice
4 eggs, 2 whole and 2 separated
Sugar in two separate measurement:
1 ⁄2 cup and 2 Tbsp. 
1 ⁄2 tsp. Kosher salt
INSTRUCTIONS
In the bowl of a mixer whip the whole eggs, egg yolks and 1⁄2 cup sugar until pale.
and thick. In a separate bowl whip the whites, remaining 2 Tbsp. sugar and salt until medium-soft peaks form. Carefully fold the whipped whites into the first mixture. Add the sifted flour and carefully fold in. Bake in a jelly roll pan at 350 degrees until a pale golden brown and springy to the touch, 5–10 minutes.

Mandarin Orange Curd
INGREDIENTS
4 egg yolks
Zest from an orange
2⁄3 cup mandarin orange juice
1⁄3 cup sugar
1 and 1⁄4 stick unsalted butter, cold and cut up into pieces
1⁄8 tsp. salt
3 ⁄4 sheet gelatin, bloomed in cold water
INSTRUCTIONS

In a medium stainless steel bowl whisk yolks, juice, zest and sugar. Set the bowl over a pot of simmering water and cook, whisking often, until thick like pudding. Remove from heat and whisk in gelatin, cold butter, and salt. Pour through a fine mesh strainer, place plastic wrap directly on the surface of the finish curd, and refrigerate several hours, until slightly more firm.
Spread as much mandarin curd as desired onto sponge cake base. Roll, starting with the longer side in front of you. Wrap the roulade tightly in plastic for a few hours, or until set and ready to be sliced.